How Facebook Can Ruin Your Career?
Since its inception back in 2004, Facebook has quickly grown into one of the most popular and successful social media platforms around. According to statistics, currently there are over 13 million Facebook users in Malaysia, putting the country among the top 20 of most active Facebook users worldwide.
But be forewarned: excessive use and slips of words/photos may land you in trouble, jeopardize your career, or even ruin it. As Facebook popularity continues to rise, so will the extent of your life exposure. Privacy problems will begin to set in and even the Facebook founder's sister, Randi Zuckerberg, is not spared of this issue.
Lack of safeguarding will expose you to all those things you are up to. The truth is, Facebook can have an adverse effect on your career in many ways.
The worst that could happen
Some three years ago, a British woman employee, who had apparently forgotten that the boss is on the friend's list, wrote in her Facebook wall that "I hate my job" and that her boss is a "wanker". Her boss immediately responded to her status update that ended with "don't bother coming in tomorrow" and "I am serious."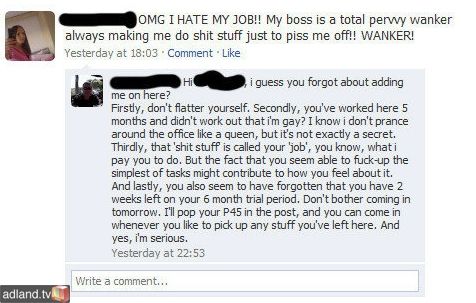 This is not the first, and certainly not the last case of a worker being fired from job because of what they have written in their Facebook account. A worker in Switzerland was met with the same fate after she was found active in her Facebook account while on a medical leave. To date, more than 20 cases where workers lost their job with Facebook as the instigator have been made public.