Some 2 years ago, Azhan, a German-educated engineer, made an audacious decision to quit the glamorous profession and embarked on a small yet ambitious goat breeding business with a few of his family members.
Today, the business does not show a sign of declining, and in fact, is undergoing an encouraging growth and primed to scale new heights. From a humble 30, the number of goats at the company, Sinar Utara Agrofarm (SUA) has been steadily increasing and had passed the 100 mark. Of course, this new figure does not take account the attrition – those that had been sold for various purposes e.g., breeding, barbeque, aqiqah, etc. and a very small number that died.
(The Sinar Utara Agrofarm dominion. Photo courtesy of SUA).
Diversifying the Business. 
While goat breeding remains as core, diversification of business that falls under the agriculture radar has been explored incessantly. The acquisition of Shami Goat (special goat for milking purpose from Cyprus) has quintessentially been a master stroke that allows the company to tap into the downstream activities such as productions of goat milk and goat's milk soap. The move subsequently allows SUA to position itself at the forefront of goat's milk supply; presently, the demand for dairy products (cow's and goat's milk) is extensively high but local breeders could only supply about 5% from the whole need.
(Shami male goat. Photo courtesy of SUA).
On top of that, mulberry trees have been planted extensively at the farm where the leaves are made part of the dietary consumption of the goats. Mulberry leaves are high in protein and calcium which stimulate increase in the production of goat's milk. Also, due to the promising potential of the mulberry leaves, SUA has gone the extra miles to collaborate with a local tertiary institution in a research to conceptualize high volume, mulberry-based livestock (especially goat) food.
(Ripe mulberries ready for picking. Photo courtesy of SUA).
Additionally, SUA has also begun adding rabbit breeding (for pet and meat) as part of their business portfolio since earlier this year. Currently, the SUA farm is home to around 50 rabbits and is in the planning to increase the population size progressively.
Creating Awareness and Marketing.
To increase the public awareness regarding local livestock and breeding industry, friends, colleagues, entrepreneurs and institutions have been invited to the farm to give them access to the "insider info" and experience the taste of, among others, the fresh goat's milk. To add to the real farm experience, the team has also added a 1-acre orchard full with local fruits such as durian, rambutan & dokong. SUA foresees agro-tourism as the next best bet to grow the business.
To Azhan, "challenging" would be the best word to sum up the past two years. With the learning curve still steep, everyday, new experience and knowledge are gained at the farm.
(Happy visitors. Photo courtesy of SUA).
SUA's goal is to be a premier supplier of goat's meat and milk in the country's northern region, and in the process, facilitating a creation of a nation with sustainable food production. Theoretically, for any business to be self-sustaining in livestock industry, 5 years is an optimal time to achieve that. From the look of things, the team now is healthily on track to achieve this. There had been some hiccups along the way, but learning from mistakes and challenges are continuing making them wiser by day.
Marketing is a key to any business vying for success. Small business and enterprises, traders and entrepreneurs are approached to strike for business partnerships. Thanks to tireless effort in promoting its products, SUA's soaps and milks are now available at many shops around in northern region through consignment consensus. While still, and continuously formulating and fine tuning the finest marketing strategy, the young outfit is grateful with the presence of the social media that allow them to reach the prospects and customers easily. Updates on the progress of the business; tips, photos, news clippings and so on are added on almost daily basis on their Facebook account to engage with the online community.
Other than using the social media, the company also advertises their products and services in AgriPlaza website. It is a virtual "farmer's market" where people from across the country can sell and buy any kind of agriculture-related products.
Starting Financially.
Some people said that by borrowing from financial institutions will give you "additional motivation" to work hard because at the end of the month you need to settle the installment. SUA opted for a different approach. Rather than borrowing, they began investing in the business with their own hard-earned savings. The team prefers to work without that extra external pressure, knowing that there are many uncontrollable elements such as weather, epidemic etc. that can affect the business.
Nevertheless, as the business embraces the growth phase, a few agencies have been approached, mostly for consultation and advice. Challenges were quite plentiful.
The company believes that agencies need to be more pro-active in assisting SME players. There needs to be a comprehensive and visionary policy on agriculture. Helps especially subsidization for small farmers is unavoidable because even in developed nation such as United States, the agriculture businesses such as wheat, cotton, etc. are protected from outsiders.
Starting with Limited Financial Resources.
If knowledge is power, then networking is money. Those who are keen to make a jump start are encouraged to join as many local and regional associations as possible. There are plenty of them e.g., Pertubuhan Peladang Kawasan (PPK), Koperasi Penternak Ruminan Utara (Koputra) etc. If you are managing the farm on a land belonging to some agencies such as RISDA or FELDA, register with them and try to get as much help as you could because normally the agencies have special fund for small farmers.
As a producer of handmade goat's milk soap, SUA also joins the Pertubuhan Pengusaha Industri Kosmetik Bumiputera (PPKIB). They get to participate in many expos for maximized exposure at minimal fees. The team can also enroll in classes and seminar organized by Kedah Bioresources Corporation (KBioCorp) with special discount. KBioCorp has one of the most complete and modern testing lab for cosmetic products in the northern region.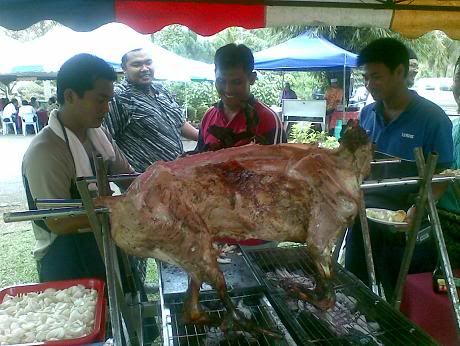 (Diligently preparing for a barbeque event. Photo courtesy of SUA).
Passion always helps when a new thing is to be ventured, be it as a hobby or a career. But a little basic knowledge will not harm. Technical books on local agriculture and livestock are available at MARDI Bookshop, UPM Serdang. To Azhan, for someone wishing to be an agri-entrepreneur, "Making your little farm profitable – Ron Macher" is a book that should become a close buddy.
(SUA range of products. Photo courtesy of SUA).
Good Time to Venture?
Agriculture industry such as livestock (and especially goat's breeding), where local players could only support 10% from the demand, is always a good industry to venture. Nonetheless, investors need to realize that agriculture is a very long term investment. It will take years to see the eventual results, but with the increase of health consciousness among Malaysians, local agriculture industry is poised to continue prospering.